Whether you are in the market for one single post or entire log cabin kits in Utah and beyond, Frontier Lumber, Inc. has the experience, strong work ethic and strict high standards necessary to deliver you the best possible product. Here is a look at our different products and services.
Frontier Lumber, Inc. is proud to offer a wide range of house logs, including Swedish Cope logs, in Utah and across the United States. Our logs come in half and full sizes, and range in width from two inches to 18 inches. Here's a rundown of the different types of logs we produce, all of which are graded using the Timber Products Inspection grading system:
Log Cabin Kits, Swedish Cope Logs and More
Swedish cope logs (sizes 7, 8, 9, 10, 12" diameter, in addition to special cuts and corner notches)
D-style tongue and groove logs (sizes 6" x 8" and 8" x 8"; Pendu finish only)
Character logs (unusual looking natural logs, used also for décor)
In addition to providing a sizable variety of logs, Frontier Lumber, Inc. also offers a number of different finishing options. Please note that this list goes in order of most expensive to least expensive:
Pendu logs (smoother finish; with the grain)
Clean Run Logs (fully peeled no bark, makes a clean, perfect-sized log)
Rustic Grade (fully peeled with some bark on sides. We run a sized log through the machine, which partially cleans it; great for those who want more character in their logs)
Frontier Lumber, Inc. also sells a number of other log home and lumber products, including, but not limited to, the following:
Dimensional Lumber & Beams
Firewood
Sawdust
Posts
Fireplace Mantels
Wood Chips
Railings
Log Cabin Building Kits
For more information about our products and services, please call Frontier Lumber, Inc. at 435-247-2521, or visit our Contact Us page.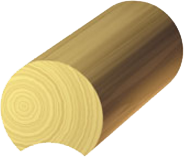 Swedish Cope Logs
| Size (in inches) | Price (per foot) |
| --- | --- |
| 7 | $4.98 |
| 8 | $6.18 |
| 9 | $8.66 |
| 10 | $10.70 |
| 12 | $16.99 |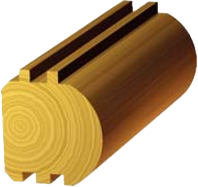 D-Shaped Logs (Single and Double Tounge-Grooved)
| Size (in inches) | Price (per foot) |
| --- | --- |
| 6 x 8 | $8.99 |
| 8 x 8 | $10.99 |

All logs are graded by Timber Products Inspection grading system